An Unexpected Community of Support Found in an Online Program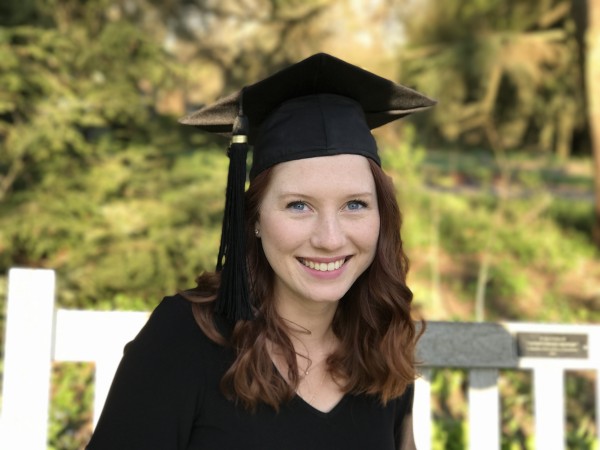 Megan Fogel graduated this past Sunday, May 6 from Ohio State's online Master of Learning Technologies (MLT). In her undergraduate years, Fogel was unsure of what she wanted to study and ended up with a Bachelors of Arts in International Studies with a minor in Spanish and Nonprofit Studies. From Fogel's undergrad years alone she knew that there was so much that she was interested in but could not major in it all. Through a student assistant position with Ohio State's Office of Distance Education and eLearning(ODEE), Fogel was introduced to the world of instructional design where she eventually decided to start her career.
"Through instructional design I was able fulfill my dreams of studying everything at once. When I am designing courses, I get to learn about the courses as well. I've designed courses from Quantitative Risk Management to Case Studies in Health Sciences."
Fogel was surprised by the amount of connections she was able to make in the online program. The community that was built within the program carried from course to course. Each instructor had a special way of keeping the community feeling in their class.
"There's such a huge misconception that online programs are isolating. Before starting the program, I believed that too." Fogel said. "I networked in the program way more than I ever did in my undergraduate years. The small classes, group projects and discussion boards created an MLT community of people who built one another up. My classmates and I are really excited for one another."
At the start of the semester, if she saw a familiar name there was always a welcoming, "Hey, how are you? Nice to see you again." There were times in a discussion where she'd find herself bragging on behalf of her classmates and catching up on each other lives.
"As the director of the MLT program and my advisor, Ana-Paula Correia always made time for me. She gave me great advice when I was overwhelmed and cheered me on when I was successful. Her dedication to the MLT community shows through the networks I've been able to create and the community I've found in each course."
Fogel is now a graduate from the MLT program and she could not be happier. As a result of earning her master's degree, she has moved from an Associate Instructional Designer to an Instructional Designer role. Fogel has also taken on managing student assistants within ODEE where she first started her love for instructional design.
"Now that I am a graduate, I will to continue to grow within the instructional design field. I am traveling to conferences with a better understanding of the field which makes me feel a lot more comfortable networking."  
Fogel along with two other MLT students graduated on Sunday. She plans to keep up with the MLT community even as a graduate through the Ohio State Online Facebook. Want to learn about or join the MLT community? Check out online.osu.edu/mlt.