Engineering Alumna Karen Gilgenbach Takes the Road Less Traveled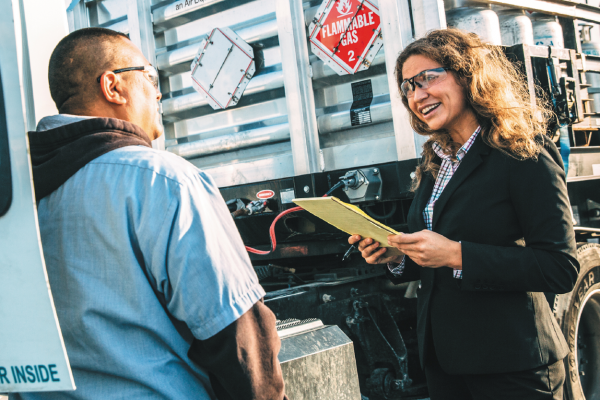 When Karen Gilgenbach decided to earn her master's in welding engineering, Ohio State's program was at the top of her list.
Home to faculty who are experts in their field, the Master of Science in Welding Engineering (MSWE) at Ohio State is among the top programs of its kind in the world. 
With a full-time job in Wisconsin, Karen enrolled in the online program – which made it possible for her to gain the critical welding engineering expertise she needed to advance in her field. 
Now a Zone Vice President at MATHESON, Karen shared with us some of her favorite memories from the MSWE program, advice she would give her past self and insight into her experience as a woman in the engineering field.
What led you to pursue the MSWE program? 
I have a B.S. in Engineering Mechanics and a CWI (Certified Welding Inspector certification). I was working in a technical role related to welding, and I loved the welding aspect.
At that time, I was providing a lot of technical recommendations regarding welding, but, although I had great technician-level skills related to welding, the engineering aspects of welding were a gap in my knowledge.
Why was an online program the right choice for you? 
There was never any doubt for me that Ohio State was where I wanted to get my welding engineering master's degree. To me, it's the best program out there. I really admire the work of the professors in the program and the research that they've done.
However, I had a full-time job and a career, so I did not want to move to attend graduate school full time. The online program was perfect for me!
The instructors were incredibly dedicated, and it was extremely flexible in terms of scheduling around my work. I also really liked that the in-person classes were recorded – even though I was watching them at night, it really made me feel like I was part of the class.
I could never have done it without such great support from the professors. I was shocked at the amount of support they gave me – just one person.
 "I could never have done it without such great support from the professors. I was shocked at the amount of support they gave me – just one person." 
What was the most valuable thing you gained from this program? 
It's hard to know where to start on this! I learned so much. From a technical perspective I was most interested in weld failures, and all the things, metallurgical and mechanical, that can cause them.
I learned about the Silver Bridge failure, and I found it so interesting that I took a road trip to visit the Point Pleasant River Museum to learn more about the historical and human elements of the tragedy. While the actual failures can be tragic to learn about, it is so important to learn from them to avoid having failures in the future.
Could you tell us about your experience as a woman in a mostly male field? 
I am a big believer that any time you take the road less traveled your experience will be more rewarding for it, so I would describe my experience in a non-traditional field as very rewarding. I have had so many great dialogues with women that are starting similar careers or educational journeys, and I am so grateful for all the discussions I have been able to have with them.
In terms of the online program, it's funny, because I did not really think about the fact that the other students in the online program were majority male! I always felt like it was almost one-on-one teaching from the instructors, who were incredibly involved. 
Tell us about your current role, and how the program prepared you for the work you do today. 
While completing this program, I was a District Manager with Airgas, an Air Liquide company. They were actually a huge part of my educational journey. The organization really values high-level technical skills in engineering and welding and are committed to employee development, so I knew they'd be supportive of me participating in the program. Airgas provided me a ton of assistance in completing the MSWE. In fact, one of their HR representatives used to proctor my Ohio State exams when I was in the online program! 
Because I worked for a company that provides high-level technical information and advice to customers and business partners, this program really prepared me to have more meaningful discussions and add value.

 
Is there any advice you would give to students interested in pursuing the program? What do you wish you knew? 
My best advice would be that the timing will never be perfect, so even if it does not seem like the perfect time to start, don't put it off. You can always take one class at a time if things get hectic, but if you never start you will never finish.
"The timing will never be perfect, so even if it does not seem like the perfect time to start, don't put it off... If you never start, you will never finish."