Balancing Work, Life & Education
Balancing your time between family, your full-time job, volunteering and other work can be a daunting task. Despite having career dreams and goals, you might think adding education to the mix could tip the balance beyond control.
Larry Martin, a recent graduate from our online Master of Clinical Research (MCR) program, also wondered if he could add education to his life balance. Martin works as a Lead Technologist at The Ohio State University Wexner Medical Center in the radiology department. He's also married, has two children and coaches high school football.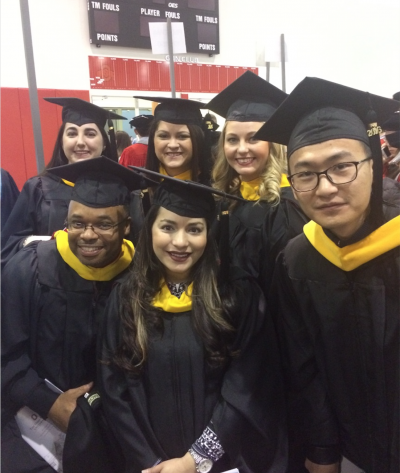 Despite having a busy life, Martin felt that the MCR program would help enhance his skills and round out the experiences he needed to advance in his career. Along the way, Martin realized what it took to find the balance between work, life and education. His biggest takeaways? Sacrifice and discipline. 
"You just have to find a way to balance the time," Martin said. "You can do everything that you're doing. A lot of it stems from personal motivation and just knowing you have to accomplish x, y, and z by the end of the day. And, still build in a break with the family."
Martin also found that pursuing his educational dreams helped motivate and inspire those around him. 
"I oversee student interns at work, and now that I'm going back to school I encourage them to push and reach their educational goals," Martin said. "Plus, I have children in high school that are getting ready to graduate. They see the discipline that I have toward my education and I'm able to instill that in them. So now they know the moment when they enter college, these are some of the things they'll have to do." 
Martin established strong personal connections with his classmates that continue to help him grow. He realized blending his education and personal life helped him make the most of the program.
"A core group of us who took classes together meet once a month for tea," Martin said. "I would have never come across most of the people if we didn't do this program together. I see it as a work relationship, we all discuss potential career opportunities that might exist for each other. But, even more importantly we encourage each other to keep going."
Although balancing the time can be challenging, Martin felt what he took away from the program outweighed any of the sacrifices he made.
"I feel more self-confident walking through the halls at work," Martin said. "I've made a big accomplishment. Many people don't get the opportunity to get this accomplishment. I think that I'm a better professional, coach, father and husband for it."
Are you ready to learn online at Ohio State? Check out our programs page to find the degree you've been looking for.