A Personalized Online Course Experience
We've all been there. You're listening to a professor lecture on about a subject and all you can think is, 'How is this relevant to me?' Well, what if a course in your online program was built just for you? What if the content was tailored to what you wanted to get out of the course?
This model is a significant aspect of our Bioethics 6000: Theory and Foundations of Bioethics course in our online Master of Arts in Bioethics program. The aim of the course is to address the primary ethical theories employed in bioethics, as well as significant challenges to these theories through religious foundations and other pre-modern ethical frameworks.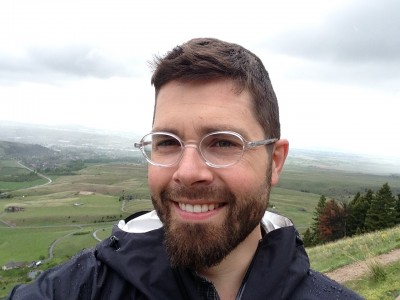 "As part of the core curriculum, this course is taken by everyone enrolled in our Master of Arts in Bioethics program," Matthew Vest, Assistant Director for Graduate Education and instructor of Bioethics 6000, said. "I knew I needed to find a way to create classroom content that would resonate with working professionals from a variety of backgrounds such as nurses, physicians, scientists, lawyers academics, and more."
Given the philosophical nature of the course and the diversity of students, Vest knew it would be imperative to a build content that could meet defined learning objectives, while also resonating with every student. With that thought in mind, Vest decided to integrate a longitudinal project into the course.
"This project allows students to select from a variety of mediums such as an academic paper, curriculum project, legal brief, grant proposal, narrative essay, film and more." Vest said. "Students are then able to pick a topic based on their interests. The hope is that students are able to work on something that is particularly relevant to their career." 
In addition to the longitudinal project, students also have weekly check-in readings, guided reading assessment quizzes and larger essay discussions.
"This course presents the opportunity to critically examine bioethics, its limitations, and its various origins, including philosophy, theology, politics, and sociology," Max Stevenson, a student in our online MA in Bioethics program, said. "I am particularly fond of the group discussions; starting the first week, we had the opportunity to discuss our opinions on what is the most important foundation to consider when making ethical decisions, which lead to some fantastic discussions."
By the end of the course, students will be able to not only articulate the history of bioethics, but also identity and understand the reasons behind a belief they hold. 
"This class gives you the chance to not only study theories in bioethics, but to also walk through, practice and experience moral thinking," Vest said. "You get to figure out why you think what you think and that's an enriching experience for many of my students."
Are you ready to receive your Master of Arts in Bioethics from The Ohio State University? Fill out our contact form to get started.