Ohio State's Online Undergrad Degrees Rank Top Ten
Ohio State's online offerings for undergraduate degrees were ranked 8th in the nation by the U.S. News and World Report this year.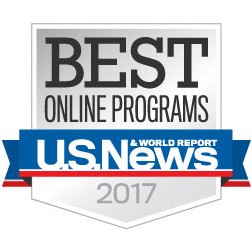 Wondering what makes a best-in-class online program? The rankings formula considers student engagement, faculty credentials, student support and peer reputation. Here are some of the features that we attribute to our world-class ranking:
An online degree at Ohio State isn't a do-it-yourself experience. These bachelor programs are designed with the same interactive coursework, relationship building and participatory learning as provided by our on-the-ground programs. Our faculty commit to responding to student inquiries within 24 hours at most.
"My instructors were very receptive to answering my emails or questions," said Greg Stockton, a recent graduate from Ohio State's online Doctor of Nursing Practice (DNP) program. "The way our program was set up, you met every week so you had the opportunity to ask questions and interact not only with your instructors, but also your fellow students."
Read Greg's story for an inside look at online learning.
At some universities, online instruction is managed by a separate unit outside of the traditional colleges in the university. Ohio State Online students, however, enroll in the same college that hosts our on-the-ground programs. You learn from the same faculty who teach traditional courses, not a second-string lineup of instructors with less credentials, experience or teacher training.
Crystal Dunlevy, an Associate Professor who teaches Health Sciences said "What we've worked very hard to do is to be the same sort of teacher online as we are in the classroom."
Strong teaching skills are complemented by support teams who specialize in building courses online. Every online instructor at Ohio State is paired with a course developer who was a graduate degree or certification in instructional design.
Some schools contract their course design to outside vendors. Our courses are built in-house to maximize the student's learning experience with the instructor's teaching style, content and learning objectives in mind.
Watch the Bachelor of Science in Health Sciences video to see Professor Dunlevy's full online instructor testimony.
When you enroll in an online degree program at Ohio State, you're truly a part of the Buckeye family. We work to ensure that every benefit and support service available to traditional students is also available to our online students. Our vast portfolio of resources for online students includes library access, tutoring and counseling, and yes—athletics tickets if you'd like to attend a Buckeye game.
See the range of benefits and resources for Ohio State Online students.
Ohio State is proud to deliver online learning at the same caliber as our on-the-ground offerings. Learn more about Ohio State's online learning opportunities at online.osu.edu.