Is Now the Right Time to Go Back to School?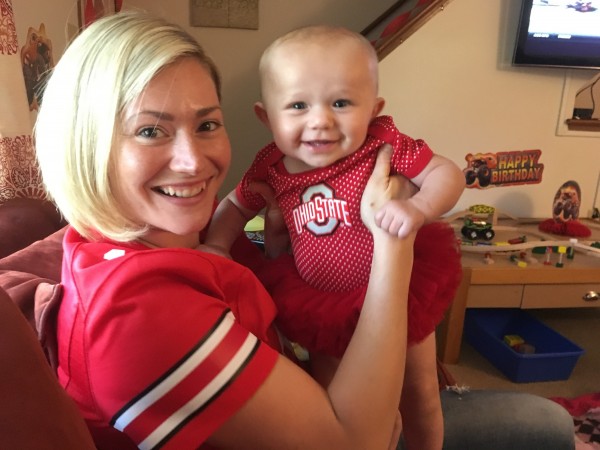 At first, Rebecca Nelson was unsure about taking on a new degree program. Her son Liam was only 18 months old when she started thinking about completing her Bachelor's of Science in Nursing.
"Some friends who I worked with were going through the program," Nelson said. "They told me, 'We can do it together!'"
With some encouragement from her spouse, Nelson decided to enroll. A short three months later, she found out she was pregnant with her second child.
"I actually ended up delivering Ava in the middle of one of my classes," she said.
The online format of the program meant that Nelson could keep making progress in her education when life events came up—even having a baby.
"It wasn't easy, but it was manageable." 
Nelson shared working ahead was the key. Knowing what was due far in advance gave her the opportunity to plan her coursework around her life, instead of the other way around. She said that the RN to BSN program experience isn't one where you read articles all semester, take a midterm worth 40% of your grade and suffer over a final paper for the rest of your points.
"I can really appreciate how the courses are designed for different kinds of learning styles," Nelson said. She enjoyed the opportunities to engage with her classmates regularly, accumulating points little by little as she gained more knowledge about the challenges and opportunities in the nursing field.
Nelson also earned credit while attending the Ohio Public Health Association's conference on Public Health Nursing, an evolving practice that incorporates nursing and public health principles.
"I enjoyed learning about how nursing could be brought to the neighborhoods, how I could be a part of preventative healthcare and address big issues in nearby communities," Nelson said. 
The conference covered topics such as addressing opioid abuse, helping patients manage their diabetes when after they've left the doctor's office, and making colon cancer screenings more accessible by bringing them to the patients. Community-based nursing became Nelson's favorite part of the curriculum.
Soon after earning her RN-BSN, Nelson was hired by the James Cancer Center's endocrine clinic. 
"It's cool that now I can work with some of the top physicians in the country. The James is a Magnet-certified hospital, meaning they only accept bachelor's degree-prepared nurses."
Nelson said she's frequently putting her community-based nursing skills from the program to work.
"I work in an outpatient unit, with people who are still in the community. We can teach our patients preventative measures they can use on their own, and we conduct risk assessments for people who are still living at home, to be sure they have what they need to stay safe and healthy after they leave the clinic."
Nelson said her nursing practice has evolved thanks to the RN-BSN degree program. She said she's better connected to the tools and resources that can help her serve her patients more effectively. For her current role and for her career, the online program opened doors for this young mom.
"I have so many more options now that I have my bachelor's degree."
Learn more about the online RN-BSN admissions requirements and the application process today.