MLT Students Adapt Projects for Remote Teaching and Learning Amid COVID-19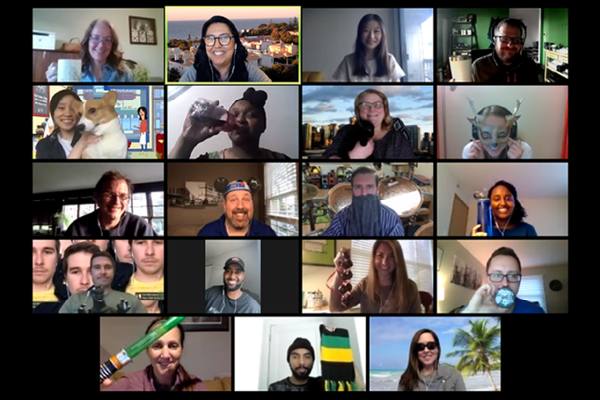 The COVID-19 pandemic disrupted the educational journeys of students around the world. On-the-ground and online programs alike were impacted by the rapid shift to remote teaching and learning.
Students in the online Master of Learning Technologies (MLT) program leveraged all the skills they developed as online learners and instructional designers to navigate the challenges posed by the pandemic. Applying their expertise to solve educational challenges, students helped their communities make the transition to remote teaching and learning, at a time when they needed it most.
Students in Professor Ana-Paula Correia's Applied Instructional Design class completed an instructional design project, applying the knowledge and skills they gained from the course to address a real-world instructional problem. This year, with so many organizations forced online due to the COVID-19 pandemic, Ohio State included, the students had no shortage of issues to address.
One group of students partnered with the Ohio Community Health Worker Training Program, part of the College of Nursing, to create an online learning module and blended learning guide about the circulatory system and associated diseases. The program will use both products to educate future community health workers.
While face-to-face interviews and recordings of students using the materials have always been a crucial part of the Applied Instructional Design course, MLT students were further challenged this semester due to social distancing. Unable to tweak their educational products based on the results of the usual methods, students relied on reviews by subject matter experts and client feedback to refine their projects.
"Some groups were able to adapt by providing links to online materials and having the client review them and provide feedback," said Sean Hickey, the course's practitioner mentor. "Other groups were able to get additional feedback from subject-matter experts who could identify potential misconceptions or inaccurate content."
The data collected from these sources provided insight that allowed the students to finish their projects and deliver professional-quality instructional materials to their clients.
MLT student Dan Parker said one of the biggest challenges his group faced was having to adapt their plans for this review phase with little notice. But this challenge also presented unexpected rewards, allowing the group to gain experience innovating and collaborating remotely.
"My experience both as an online student, as well as effectively a "remote collaborator," was invaluable for my career," said Parker. "It offered me perspectives on both sides of teaching and learning, which in turn is helping me to better support my faculty and staff in my day job."
Correia and Hickey also drew from their combined years of instructional design experience to help students perfect their projects and understand the true value of their work.
"We offered many suggestions for improvement and showed students the value that online learning experiences brings to our clients and communities," said Correia.
The implementation of "stay at home" orders across the nation shed light on the growing need for technology-enhanced learning products – and for the people who create them.
"As educators, our students are the most important thing and being flexible to help them achieve as much as possible in a difficult situation is the most important tool to have in your tool belt," said Parker.