Graduate's Project on Homeless Housing Stability Wins Award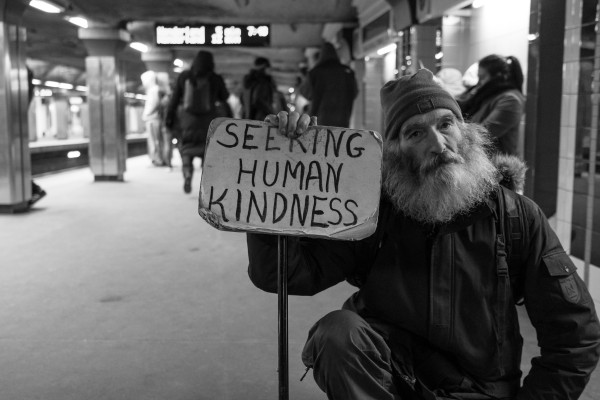 "In the words of Mahatma Gandhi, my career has embodied the hope of being the change I wish to see in the world," said Joshua Raines, a recent graduate of the online Master of Social Work program.
He took inspiration from his work with National Church Residences, the largest non-profit provider of senior low-income housing in the United States, to do a capstone project on how a peer-support staff may impacting housing stability for the homeless.
Raines was selected by his professor, Dr. Jerry Bean, to present his research project in a poster presentation event during the College of Social Work's Annual Field Education Awards Breakfast. During that event, agency participants, guests, faculty and staff had an opportunity to engage with nominees about their research and vote on the most compelling one—Raines took the award home with his project.
His study looked at whether permanent supportive housing with certified peer specialists had an effect on housing stability. These specialists are individuals who have personal experience in recovery from mental health or substance abuse and are trained to support their peers in moving forward in their own recovery. He found this model had fewer emergency medical runs, in-patient hospitalizations, 10-day eviction notices and police visits than traditional models.
This impact was personally felt by one of Raines' anonymous subjects, a formerly incarcerated individual who was homeless for over four years.
"I suffer from high anxiety and the peer specialists brought my stress level way down," he said. "If I needed someone to talk to, they were here for me and gave me some good insight on things that actually help."
Since receiving this award and graduating, Raines continues his mission to help others through the Permanent Supportive Housing division of National Church Residences.
"As social workers, we have the unique ability to walk alongside those we serve, providing them with access to services and supports that can enable them to live greater, more fulfilling lives. I can't think of a higher privilege than to serve those who our society has set aside and I'll continue to do so for decades to come."
Learn how you can make a difference with the online Master of Social Work program.