Online Student Speaks for the Unspoken
Ohio State's online learners do special things both inside and outside the virtual classroom.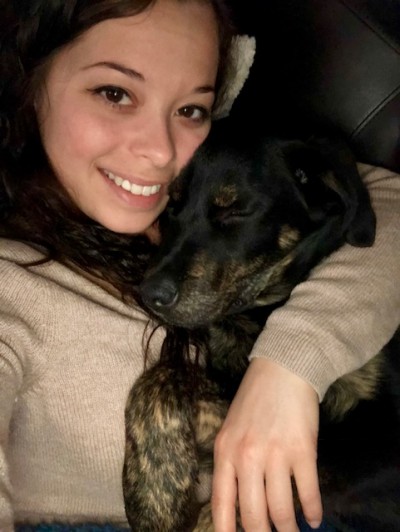 Carmen Soranno, a student in the online Bachelor of Science in Health Sciences program, is one of them. When she's not working as a physical therapist assistant and juggling a full-time class load, Soranno volunteers to care for and foster dogs—primarily pups with special needs.
"My rescue, Speak for the Unspoken, works with a lot of double merle Australian shepherds or cattle dogs. When two dogs who have a desired merle coat are bred together, each puppy in the litter has a 25% chance of being born deaf, blind, or deaf and blind."
Soranno explained that understanding how genetics works has been extremely helpful in her educating the public and breeders about safe breeding practices.
"We also take in dogs that have neurological disorders, such as epilepsy," she said. "I do believe that my background in health sciences has been useful in working with these [animals] to understand that you need to think outside the box to train these dogs."
Soranno works tirelessly to improve the dog's quality of life, whether its keeping them safe during seizures, or training rescues that are visually and hearing impaired.
"Dogs who are blind or deaf should not be treated any differently than 'normal' dogs that can both see and hear. Deaf dogs respond well to hand signals, sign language and body demeanor of their humans, and blind dogs respond well to voice commands and tone of voice used," she said. "Those that are both blind and deaf/impaired use tactile cues for commands and different textured mats around the house to recognize stairs and doors."
Soranno's passion for helping others transcends to all living things, and she looks forward to graduating in Spring 2019 with hopes of working towards her Doctorate in Physical Therapy.
"Nothing makes me happier than knowing I helped to better someone's life, physically, mentally, or emotionally," she said. "I believe that physical therapy does not just help improve physical abilities and decrease ailments, but also improves one's outlook on life and confidence to be able to do things again they never thought they would be able to do before."
Our online students come from a variety of unique backgrounds, but they are all striving towards career advancement while maintaining full lives and extracurricular activities. To learn more about the online Bachelor of Science in Health Sciences, visit the program site.