Take Advantage of Tuition Assistance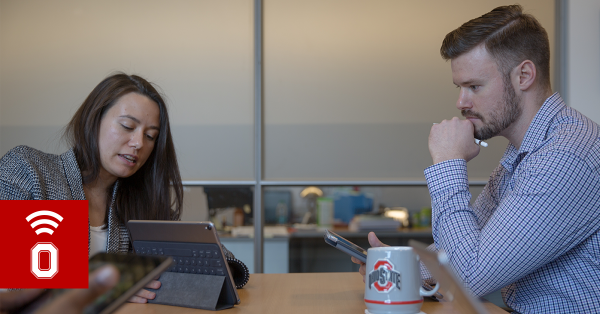 A tough conversation to have with your employer can be on the topic of tuition assistance. Tuition assistance is a great benefit to take advantage of. Although, it is a tough conversation to have, we have established talking points to make it easier. One of the biggest things to remember is that at the end of the day, employers want their employees to succeed.
Let's begin with the benefits - this is how you will succeed.
You'll become a leader in the workplace. Your new knowledge and skills will help you guide others.
Emily Caudill uses the Master of Healthcare Innovation (MHI) program online at Ohio State to gain newfound leadership skills to benefit patients in the Healthcare System. "I chose the Master of Healthcare Innovation program because of its partnership with the Wexner Medical Center. I really like that it is an academic medical center with a focus on research. It's the best hospital in the state," she said. "The United States has one of the most expensive healthcare systems in the world. America as a whole has some of the sickest people in a developed country. We need to do better. We need to figure out how to change healthcare." - Emily Caudill, MHI student. Caudill is using what she is learning to change the world of healthcare.
You will be able tackle more projects/assignments.
Vanessa Jamison, a student also in the MHI program, is gaining more tools in her toolkit to lead her team to success. "I've been a leader here in the university for a few years," Jamison said "but I needed more tools in my toolkit." She knew that as a leader she wanted to continue to grow to be able to lead her team to the next level. 
You will gain skills and knowledge that can take your position to the next level.
Rebecca Nelson earned her Bachelor of Science in Nursing degree online at Ohio State to advance her career as a registered nurse. Soon after earning her RN-BSN, Nelson was hired by the James Cancer Center's endocrine clinic. "It's cool that now I can work with some of the top physicians in the country. The James is a Magnet-certified hospital, meaning they only accept bachelor's degree-prepared nurses."
You will meet a new network of people who can help you succeed.
Faculty members like Jennifer Richardson, PH.D., who witnesses the profound changes that students make to their teaching practice because of the Online Master of Art in Art Education. "The students in this program are excited about new ideas and approaches and work to apply those in their current teaching settings," Richardson says. "It is such a joy to watch the students grow, to experience their enthusiasm and their renewed passion and excitement about art education." 
Your network of people can extend beyond faculty members to classmates. Cara North, who found a virtual network through her classmates online in the Master of Learning Technologies program. "My favorite thing about the program is that I found my tribe," North said. "I'm extremely close with my advisor. I'm also close to my instructors. They share opportunities with their students. In fact, one of my instructors, shared out an opportunity to present at a conference. I teamed up with a few classmates, and we presented together. It provided us a chance to work together, network, and build connections."
There are lots of benefits that earning an extra degree can help you and your employer excel in the workplace. But with the benefits comes concerns. Employers may feel hesitant when it comes to cost, balancing school and many other concerns when it comes to going back to school.
Here's how you can address some of the common ones.
How will you balance your work and school?
Most online master's degree programs know that many of their students work full time. These programs are designed to be flexible so you can balance all the things that life throws at you. Jennifer Fogt, OD, FAAO, a student in Ohio State's online Master of Science in Translational Pharmacology program can attest to this. "There have been situations where I am talking to people in my current trials and I think to myself 'I just learned about that last night'. It's really exciting to when you can actually see that come to a part of your work day."
Paying for a Masters level degree is expensive.
It can be, but consider how much it would cost to hire someone to replace you – not just in money, but in time spent training someone new. Many companies provide tuition assistance, even to part-time employees who meet certain requirements. Some of these companies include Starbucks, UPS, Verizon and many more! Here at Ohio State, you can estimate tuition costs with our Total Cost to Degree Calculator.
Before going into this conversation with your employer, make sure you are prepared to address the benefits and concerns. Need more inspiration? Check out these students who are excelling at balancing work, school and life.
American Ninja Warrior – Chad Riddle