Student Feature: Jennifer Fogt, OD, FAAO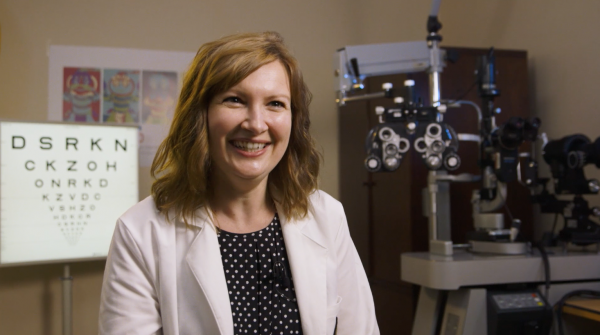 As an Associate Professor of Clinical Practice within in College of Optometry, Dr. Jennifer Fogt loved seeing patients and teaching her students. Along the way she picked up a role as a primary investigator for research cases. The role of primary investigator fueled her love of research but Fogt felt that something was missing – a formal education in research.
"An emphasis in my career right now is in clinical research, so I am a primary investigator on a number of studies that work with industry. As a primary investigator, I am in charge of and responsible for the study," she said. "I am the doctor who oversees everything – like making sure everyone is safe, the procedures are done correctly and that the clinical study provides valuable information when it is concluded."
That is when Fogt found the Master of Science in Translational Pharmacology at Ohio State online.
"As I dove deeper into the role of a primary investigator, I decided to pursue a Master of Science in Translational Pharmacology because I wanted to have the credentials, background and more education on research in general."
Fogt knew that the master's degree would not only push her to be a better primary investigator, but she was learning so much about all the different aspects about research. There were things that Fogt had never considered before like different points of views that the sponsor or FDA may have on a case study.
"There have been situations where I am talking to people in my current trials and I think to my myself 'I just learned about that last night'. It's really exciting when you can actually see that come to a part of your work day."
The ability to immediately apply her education to her current role is just one of the perks of the online program. Fitting it into her hectic schedule is another benefit.
"I knew I wanted to find a degree program at Ohio State but I wasn't necessarily looking for an online program. I was intrigued by the aspect of an online program, this wasn't available when I completed my Doctorate of Optometry," said Fogt. "It's more appropriate for my life now. I have a fulltime job with a busy family that is always on the go. It became a great option for me because I could fulfill all my obligations while still being able to do something for myself."
Fogt is able to pursue what she wanted out of her career while still being able to balance work and family. To learn more about the Master of Science in Translational Pharmacology online degree program, follow this link.