Specialized Master of Business Analytics at Fisher College of Business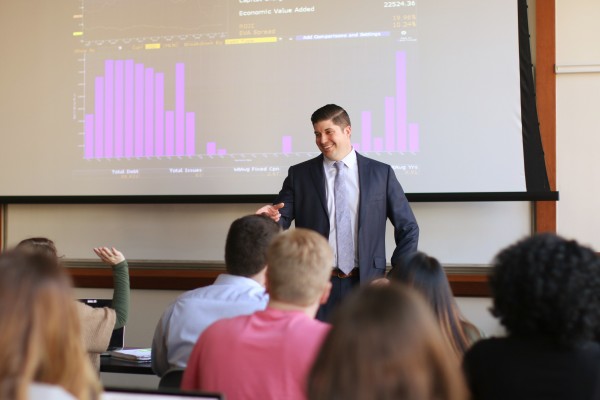 Big data is big business, and the demand for skilled analytical professionals only continues to grow. A recent report from the McKinsey Global Institute revealed that the workforce is currently short nearly 200,000 U.S. workers who are adept in analytics, in addition to the shortage of 1.5 million data-savvy managers with analytics skills.
In response to the increasing desire for professionals who can effectively interpret and analyze data, The Ohio State Fisher College of Business has launched a Specialized Master of Business degree program in Business Analytics (SMB-A). Leveraging Fisher's world-class faculty and rigorous, experiential curriculum, the SMB-A provides students with unique skills in an area primed for tremendous growth. The program is currently accepting applications for Autumn 2018.
"The SMB-A is a relevant, high-impact graduate degree that appeals to professionals from across multiple fields and industries," said Waleed Muhanna, co-academic director of the SMB-A program and a professor of accounting and management information systems. "Those who enroll in the SMB-A are taking control of their career development as data-savvy professionals and consultants and are choosing to elevate themselves as leaders in an area that is critical to business now and for generations to come."
The 10-month program combines online instruction with three, in-person or livestreamed Saturday classes to accommodate the schedules of working professionals and maintaining access for non-working professionals. The program uses a hybrid course-delivery format, blending a mix of three-fourths online instruction with one-fourth on-campus or livestreamed classes involving in-depth discussion, live demonstrations and explorations of subjects, and hands-on individual and group exercises. Additionally, students will complete a capstone project using actual data from their employers or other organizations partnering with Fisher's SMB-A program.
In keeping with the program's mission to prepare future data-savvy managers and leaders in business analytics, the curriculum has been designed with the following goals in mind:
Graduates will demonstrate fluency in working with data, and an understanding of data acquisition and management in organizations to meet specified business objectives.
Graduates will be able to conceptualize real world problems, identify data requirements, engage in rigorous critical thinking, and develop innovative solutions through the application of (a) descriptive; (b) predictive; and (c) prescriptive data analytic methods and techniques.
Graduates will demonstrate competence in communicating tractable results and integrated insights that inform organizational decision-making.
Graduates will identify and evaluate ethical issues surrounding data and its use in decision making.

Learn more about how you can accelerate your career in business analytics with a Specialized Master of Business degree program in Business Analytics (SMB-A) from Fisher College of Business.