Online MS Pharmacology Program for Clinical Researchers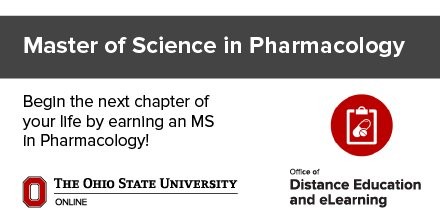 Are you interested in developing skills in clinical trial design and clinical pharmacology? The College of Medicine, in collaboration with the Colleges of Pharmacy and Nursing, now offers a flexible, 100% online MS Pharmacology degree program for clinicians and students with a bioscience background. The program offers coursework in pharmacology, toxicology, and biostatistics, as well as training in the conduct of clinical trials. 
Please participate in our Online Information Session via Adobe (Carmen) Connect on Tuesday, January 9th from 7:30 - 8:30 p.m. EDT. RSVP is required. To RSVP please email Nikki Herbert (herbert.1865@osu.edu) for more information. 
Prospective students interested in learning more about the Master of Applied Clinical and Preclinical Research (MACPR) program are also welcome to attend.
Application deadline for summer 2018 is March 1, 2018 with classes beginning in May 2018.