Playing Dual Roles: Teacher by Day Becomes the Student by Night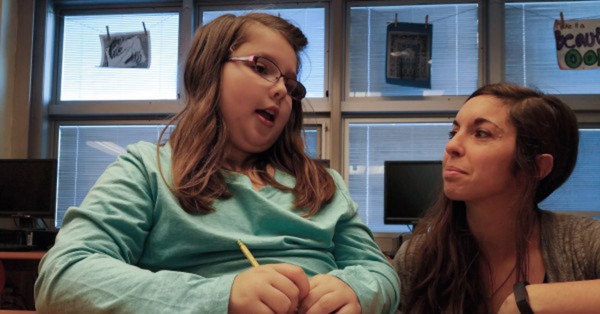 As a teacher who instructs nearly 800 students per week in Ohio's Newark City Schools system, Emily Cline knew that there was so much more she could do to shape the young minds in her classroom. She felt limited in what she could do, but knew that going back to school would be a good way to expand her teaching practices.
In Spring 2017, Cline enrolled in the Masters of Arts in Art Education program offered online at The Ohio State University. In just two semesters, she's already taking what she has learned into her own classroom.
"The focus on intersectionality and social justice was a big part of why I choose the program." Cline said. "I wanted to be in a program where I could grow. I wasn't going back to school to earn more money at my job. I wanted to be able to take the experiences from this program and mature into the teacher that I've always wanted to be."
The courses challenged Cline to think outside the box, and at times, pushed her out of her comfort zone to try new things. She immediately knew that she wanted to share those same experiences with her students.
"I wanted the students in my classroom to be challenged in the way that my professors challenged me in my classes. The faculty members made me feel really comfortable to take risks in the classroom."
Cline has seen growth in many of her students' art projects in the classroom. Students are coming up with their own ideas for art project topics, such as what they can change in the world around them.
"For this 'change the world' art project, I let my students have creative freedom. My only limitation was that it had to answer the questions: Why is this important to you, what could you do now to change it, and what could you do in the future? This allowed my students to critically think about the world around them and express those feelings through their art work."
The experiences Cline had gained is exactly what Dr. Jennifer Richardson, Associate Professor in the Master of Arts in Art Education online program envisioned for her students. One of the courses that really influenced Cline was Art Education 7604: The Art Making Process.
"I want students to be engaged as both practicing artists and art educators," Richardson explained. "We explore innovative and contemporary approaches to artmaking that challenge them to consider the intersections of meaning-making, play and the production of new ideas. Students make art in this course using methods, frameworks and materials that are often new to them and we truly have an adventure of how we can conceive of artmaking in art education in new and exciting ways."
The Master of Arts in Art Education is a great program for art educators who want to change their thinking and the world through artmaking and education. To learn more about this unique program, contact us.